May 1 Benefit Concert: We Raised $113 000 and counting!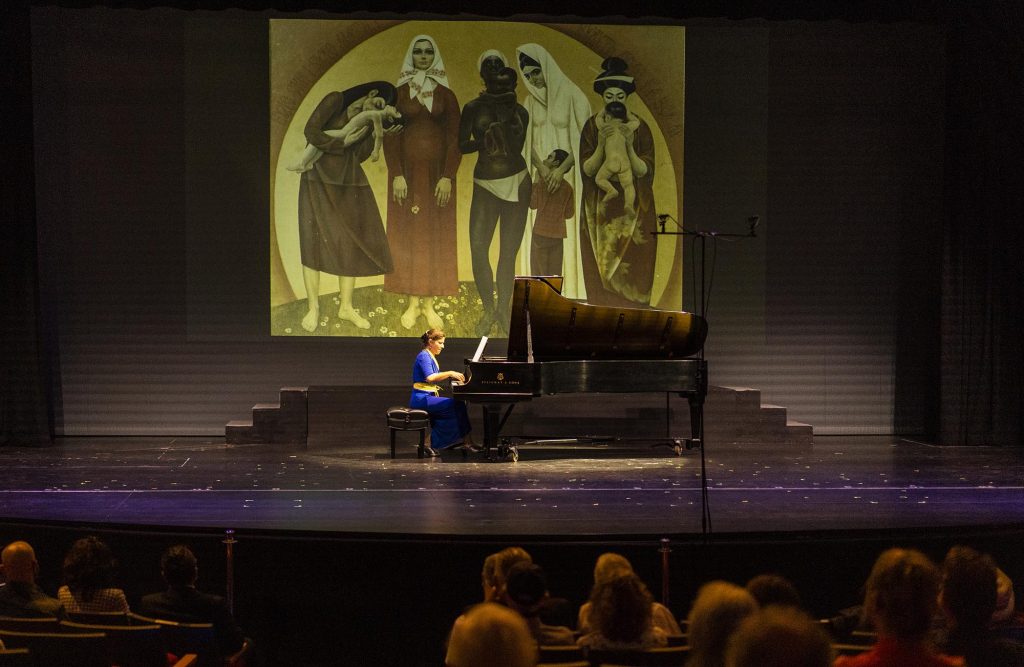 We raised $113,752 and counting!! Sunday night was spectacular! It was only symbolic that our Benefit Concert to raise money for critical medical supplies in Ukraine's war zone happened to be on our sons Peter and Leo 10th Birthday with the images of Ukrainian People by their Grand Father Leonid Steele projected behind remarkable musicians on the special and moving program and standing as evidence of nations' strength and future. The pledges are still coming and $113.7K is not the final tally yet. An enormous fit by a hugely dedicated team of collaborators – awesome Jacaranda Music, Culver City Forward, our own Classical Underground, Wende Museum, Culver City School District, PosterTerritory and Culver City Artist Laureate (which would be me) making up the committee of organizers that worked virtually around the clock for three weeks to make this happen.

A huge special thank you to our long time Classical Undergrounder Dr. Alexender Rivkin who developed a remarkable pledge deal by the Allergan company to cover shipping costs for 50 pallets of medical supplies, almost two full cargo aircraft, which we were able through our event to go to Direct Relief.
Since the start of this horrific war many were asking "what can we do"? One of the biggest real questions – who to trust with the support money to reach the ground. If you also have this question – go check out remarkable Direct Relief. They send critical medical supplies. Like insulin. They know how to get it there and how to distribute with established networks of local volunteers. They save real lives, real time. This is what you can do too by donating to them.
Message of Peace Through Art in Los Angeles Times Rview of our May 1 Benefit Concert
In his insightful review of our May 1 concert the music critic for the Los Angeles Times Mark Swed makes an eloquent, forceful and convincing case for the necessity of art to become a messenger of peace at the time of horrible war.
A FREE benefit "Concert in Solidarity with Ukraine" celebrates Ukrainian music, poetry, and art with prominent Ukrainian artists and major guest artists in Culver City's Robert Frost Auditorium Sunday, May 1 at 6:30pm. Jacaranda Music, Wende Museum of the Cold War, Culver City Forward, Culver City Unified School District, and Culver City Artist Laureate Alexey Steele & Classical Underground partner to present a direct appeal for refugee support. Tickets are free for the event with a suggested $25 minimum charitable contribution by phone on-site. Donations will be solicited during the concert with a goal of raising significant funds for Direct Relief to provide critical health care for victims of the War in Ukraine. Audience-enabled real-time smart phone donations will be sought and displayed during the event. An emotion filled evening of music and poetry curated by Patrick Scott, Jacaranda's Artistic Director will include short works by classical Ukrainian, Russian and Polish composers. Living Ukrainian composers Valentin Silvestrov and Jan Freidlin, as well as the late Miroslav Skoryk, and the Romantic modernists Reinhold Gliere, and Sergei Prokofiev will be featured. Music by Dmitri Shostakovich, the soul of Soviet oppression under Stalin, and Henryk Gorecki from Poland will provide moral support. Prominent concert pianists Inna Faliks and Steven Vanhauwaert, Latin Grammy-winning cellist Antonio Lysy, and violinist Myroslava Khomik, will be joined by the Lyris Quartet, Jacaranda's culturally diverse resident string ensemble, for a program of solos, duos, and quartets. The concert will culminate with special guest singers performing the Ukrainian National Anthem. The singers will be accompanied by the Jacaranda Youth Chamber Orchestra made up of high-achieving student string players from high school orchestras across the region. Jacaranda Music Director Mark Alan Hilt will conduct.