CONCERT IN SOLIDARITY WITH UKRAINE
Melody from the 1978 film High Mountain Pass by Miroslav Skoryk (1938 Lviv – 2020 Kiev)
Myroslava Khomik, violin, and Inna Faliks, piano
Deeply popular in Ukraine for its nationalist fervor, this film music is now reaching a worldwide audience in various arrangements and gaining a measure of fame for Miroslav Skoryk, who died at age 81 June 1, 2020, in Kiev. Skoryk was born and musically educated in Lviv, but his family was deported to Siberia in 1947 when he was aged nine. His father was a cultural historian and his mother a chemist. They retuned to Lviv two years after Joseph Stalin's death. Skoryk studied at the Lviv Conservatory from 1955 to 1960, then enrolled in the Moscow Conservatory studying with Dmitri Kabalevsky until 1964. His dissertation focused on the Ukrainian-born composer Sergei Pro-kofiev. In 1966, Skoryk was appointed to the Kiev Conservatory remaining until 1988. His early Burlesque for solo piano became a frequent competition challenge. Ukraine's Shevchenko National prize was awarded Skoryk's Cello Concerto in 1987. He moved his family to Australia in 1996 gaining citizenship, only to return to Kiev. Awarded the Hero of Ukraine medal in 2008, Skoryk was appointed artistic director of Kiev Opera in 2011. His extensive cat-alogue includes ten violin concertos, the last written in 2019.
Ballade in Black & White by Jan Freidlin (b. 1944 Chita, Siberia)
Inna Faliks, piano
This contemporary style Ballade was composed by Jan Freidlin for Inna Faliks in 2005. As a child prodigy in Odessa, she studied music theory and composition with Freidlin at the Stolyarsky Special Music College where he taught from 1974 to 1990 – at which time he immigrated to Israel. After studies at Odessa Music College, from 1965 to 1971, Freidlin was trained as a pianist, composer, and musicologist at the Odessa State Music Academy. Upon graduation he became principal conductor of Odessa Philharmonic Society Jazz Band. The death of Dmitri Shost-akovich in 1975 inspired Freidlin to compose the orchestral Epitaph in Memoriam of a composer who was famous for his championship of Jews in the Soviet Union. In addition to symphonies, voluminous solo piano music and cham-ber ensemble works, Freidlin has shown special interest in writing for the guitar and the harp, including Concerto Tranquillo for Harp and Strings (2010). More recently he composed the symphonic poem Ariadne's Thread in 2016. Freidlin now teaches at Levinsky College of Music in Tel-Aviv. Ms. Faliks recorded Ballade in Black & White for Naxos.
String Quartet No. 1 Op 50: I. Allegro, II. Andante by Sergei Prokofiev (1891 Sontsivka, Ukraine -1953 Moscow)
Lyris Quartet – Alyssa Park & Shalini Vijayan, violins, Luke Maurer, viola, and Timothy Loo, cello
At age 11 Sergei Prokofiev began private study with by Reinhold Gliere in Sontsivka, Ukraine and trained at the St. Petersburg Conservatory. Soon after the Soviet Revolution and between the wars – from 1918 to 1938 – Prokofiev was ever on the move. He enjoyed international celebrity as a virtuoso performing his own piano concertos, and the contradictory status of an enfant terrible piling dissonance upon dissonance, while offering his audience-friendly Classical Symphony, an updating of the 18th century symphonic model. Prokofiev appeared with major orchestras in North and South America, Japan, Algeria, and Europe. He negotiated ballets with Diaghilev in London and Paris. In New York he attracted a stylish young Spanish/Polish fan, who would soon be his wife. Prokofiev was toasted by high society in Chicago and Washington D.C. His First String Quartet was commissioned by the U.S. Library of Congress and premiered in Washington DC, April  25,1931. It's distinctive key, B minor – a semitone under the viola and cello range limit – and the  orchestral scope of its technical demands may explain the quartet's thin performance history. In 1938, Prokofiev's unquenchable need to be recognized as a foremost Soviet artist brought him back home to compete with punishing mediocrity and to survive the soul-killing machinations of Joseph Stalin. Prokofiev's life would come to a bitter, and cosmically poetic end on the same day as Stalin's death, survived by Dmitri Shostakovich, who faithfully stayed in Moscow for 22 more years until the age of 70. Homesickness proved fatal.
The Messenger (solo piano version,1996) by Valentin Silvestrov (b. 1937 Kiev)
Steven Vanhauwaert, piano
Valentin Silvestrov is living now in Berlin – the site of three important premieres – having fled Ukraine at the outset of the Russian invasion. He began private piano studies at age 15, moved on to the Kiev Evening Music School (1955-58), then to the Kiev Conservatory until 1964. His post-modern "metamusic" was a break with the straight jacket of Soviet Realism and the competing avant-garde camps of post-serialism and minimalism in the West. When the Soviet Union invaded Czechoslovakia in 1968, he abruptly walked out of the Composer's Union of the USSR in protest and was expelled. By 1974 he withdrew from the public aspects of being a composer saying, "I do not write new music. My music is a response to and an echo of what already exists." His choral work Diptych is a setting of Taras Shevchenko's 1845 poem Testament, recited on tonight's program. Diptych is dedicated to the first casualty of the 2014 Revolution of Dignity. Silvestrov's catalog currently lists nine symphonies (the last in 2019), concerti, three string quartets, three piano sonatas, chamber, and vocal music. The Messenger is among Silvestrov's most popular works owing to its nostalgia for Mozart and his time. "Music should be so transparent that one can see the bottom and that poetry shimmers through this transparency." – Valentin Silvestrov.
Berceuse from Eight Duets for Violin & Cello Op. 39. No. 3 (1909) by Reinhold Gliere (1875 Kiev – 1956 Moscow)
Myroslava Khomik, and Antonio Lysy, cello
While reflecting a stylistic debt to Chopin, this lullaby was written when Reinhold Gliere was in his mid-thirties and Prokofiev, his young student, was already making rebellious waves at the St. Petersburg Conservatory with teachers Anatol Lyadov, Alexander Tcherepnin, and briefly Nicolai Rimsky-Korsakov. In 1894, Gliere entered the Moscow Con-servatory to study with Sergei Taneyev, Mikhail Ippolitov-Ivanov, and Anton Arensky. His famous Symphony No. 3 "Ilya Muromets" followed in 1911, won the Glinka Prize, and was championed internationally by conductor Leopold Stokowski. Gliere was appointed head of Kiev Conservatory in 1914. More famous still was his 1927 Soviet ballet The Red Poppy, which contained the irrepressible  Russian Sailors Dance. Gliere's general conservatism and uncontroversial politics allowed him more freedom than most Russian composers during the Soviet era. Gliere's Horn Concerto owes its compositional DNA to his father's mastery as a wind instrument maker. While this Berceuse is slight, its warmly ingratiating melody and intertwining lines bring the slumber of displaced Ukrainian children to mind – precious sleep too often interrupted now by resettlement and the extremities of war.
Cello Sonata in D minor, Op. 40: III Largo (1934) by Dmitri Shostakovich (1905 St. Petersburg -1975 Moscow)
Antonio Lysy, cello, and Inna Faliks, piano
Prokofiev first met Dmitri Shostakovich in 1927, while on a two-month trip to Leningrad, where the 36-year-old com-poser/piano virtuoso performed his First Piano Sonata. The visit shocked Prokofiev to see how much the city had changed and to sense how much he was regarded by the public as a bourgeois outsider with broken loyalties and a dissolute lifestyle. Back in Paris, Prokofiev described Shostakovich as a difficult personality – perhaps jealous that the 19-year-old composer's precocious First Symphony, was breathlessly hailed as genius. At age 13 Shosta-kovich entered the Petrograd  Conservatory then headed by Alexander Glazunov. The First Symphony was his grad-uation piece. Its stunning 1926 premiere  began the seesaw of Shostakovich's fame that would reach rock bottom ten years later upon Stalin's savage rejection of his wildly popular opera Lady Macbeth of Mtsensk, which had run regularly for two years. Shostakovich married his first wife Nina in 1932. They divorced three years later after a strained separation. The couple remarried when she became pregnant. Their first child was born just as Stalin set out to destroy her father's career. This Largo movement from the Cello Sonata comes from the depth of Shostakovich's despair over his marital separation and a sense of impending doom.
String Quartet No. 2 Op. 64 "Quasi Una Fantasia": III Arioso: Adagio Cantabile (1990) by Henryk Gorecki (1933 Czernica, Poland – 2010 Katowice, Poland)
Lyris Quartet
Henryk Górecki is the most well-known Polish composer of the 20th century owing to the extraordinary commercial success of the 1992 Nonesuch recording with soprano Dawn Upshaw and conductor David Zinman of his 1976 Symphony of Sorrowful Songs, released as a memorial commemoration of the Holocaust. The Chernobyl Nuclear catastrophe of 1988 contributed to the dissolution of the Soviet Union by 1991. The international zeitgeist was tuned to Symphony of Sorrowful Songs. The work and its composer, who received an honorary doctorate form Concordia University in Montreal, Quebec, Canada, were on that occasion regarded as healing "wounds inflicted by the violence and intolerance of our times." His masterful Second Quartet (1991) followed the reunification of Germany after the fall of the Berlin Wall. Its subtitle refers to Beethoven's Sonata No. 14, better known by its nickname "Moonlight." Commissioned by Lincoln Center for Kronos Quartet, the slow movement of Quartet No. 2 distills the wild, barely-suppressed voltage of loss, and in quartet form echoes the maternal grief that haunts the Third Symphony. The com-poser said "I want to express great Sorrow. This sorrow burns inside me." As Poland receives millions of Ukrainian refugees, they understand about what it will take to recover from devastating loss and tragedy.
The Great Gates of Kiev from Pictures at an Exhibition (1874) by Modest Mussorgsky (1939, Karevo, Russia – 1881, St. Petersburg, Russia)
Inna Faliks, piano
Widely known in its orchestral guise, the powerful piano suite Pictures at an Exhibition famously ends with an imaginary depiction of a monumental gate, the winning entry to commemorate Tsar Alexander II's survival of an assassination attempt designed by architect/artist Viktor Hartmann, who died suddenly at age 39. A massive ex-hibition was organized which inspired Modest Mussorgsky to make selections to be immortalized with music.
Program notes by Patrick Scott
Jacaranda Music
Artistic & Executive Director
Tonight's art presentation consists of two distinct bodies of artistic work.  One is the selection from the book "Permanent Revolution" by Alisa Lozhkina.  The second one is by the important Ukrainian artist of the Soviet period Leonid Steele.
Leonid Steele (1921 – 2014) is an important Ukrainian artist  of the 50s – 60s – 70s period of art in the Soviet Union.
He was a unique artist with the most significant part of his rich artistic life spent in Ukraine.  He was perhaps the highest profile Ukrainian artist of the 50s, 60s and 70s to ever reside in the US. Leonid Steele survived the infamous "golodomor" of 1933 and as a Red Army soldier was gravely wounded during the First Siege of Kharkiv in 1941. Leonid Steele  believed all his life in two things – Peace and People. He believed that all great art is about it and that this is the most vital role of true art.  He created amazing and powerful in their deeply humanistic expression images of Ukrainian people and his iconic works are now the anthem to the people whom he knew so well, loved so much and portrayed so compellingly. This horrible and criminal war that is now raging in Leonid's home land shall stop immediately.  #PeaceForUkraine
Three important paintings by Leonid Steele in the selection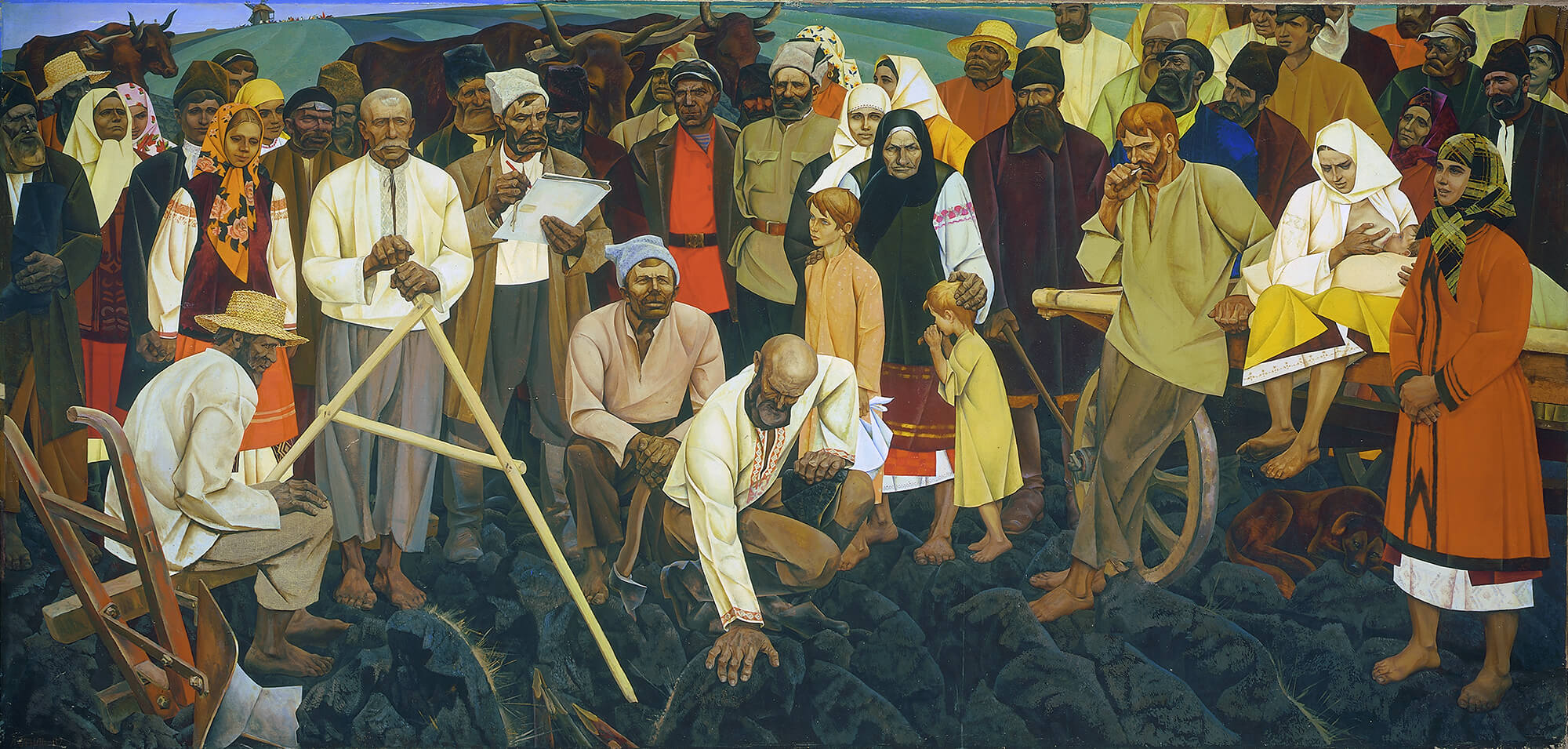 Leonid Steele "The Land" 1968
"We will defend our land regardless of cost" From a speech of President Zelensky to The Parliament of the United Kingdom, March 8, 2022
In his historic speech at the darkest hour President Zelensky could have described Ukraine in many different ways.  He could have said "country", he could have said "state", yet he chose the profoundly important for Ukrainian people, the nation of farmers, word and notion – "land".  In his 1968 masterpiece "The Land", Leonid Steele have delivered one of the most powerful and iconic depictions of this nation-defining term. In 1968 Leonid Steele gave iconic representation to the central notion which President Zelensky invoked in 2022. The People on The Land is Ukraine.  As long as there is the land there will be people.  The People, standing on their Land are undefeatable and unbreakable.
The idea of this painting was given to Leonid Steele by the people themselves, the farmers in the Krasnoe 2 village near Kiev where Leonid Steele worked a lot in that period.  He was well known, loved and respected by this faming community which even elected him to the board of the collective farm.  Leonid Steele was proud of it more than many other honors and accolades he received for his work.
Leonid Steele would always retell the story.  At one of the local gatherings the group of respected elders approached him  and said: "Leonidu Mychailovychu, draw the icon about the land".  At the time of official soviet anti-religious secularism this was a very odd way to describe a request.  Leonid Steele responded: "You probably want to say "picture" to which they replied: "No. You are still too young to understand.  The Land is the holiest of all we have. What we were promised and what was taken away.  Make an icon." Leonid Steele was contemplating, thinking and developing this concept for ten years. When he finally painted the piece he would always say: "It is painted by commission. By commission of The People."  This work he considered the masterpiece of his life.  With it he did create the icon of The People on their Land.  The collective and iconic representation of the nation shook the contemporary viewers and received wide contemporary acclaim.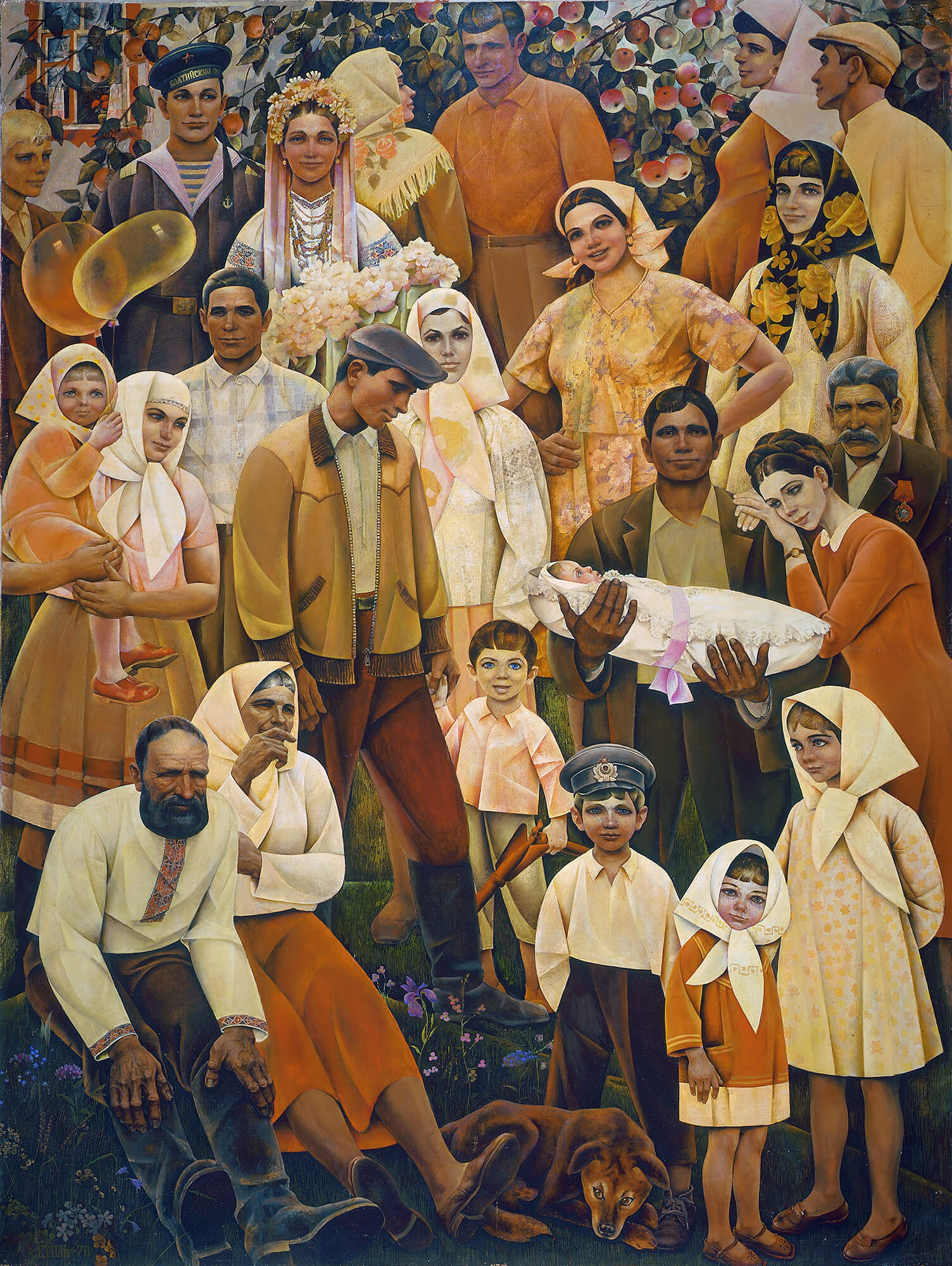 Leonid Steele "The Kossak Keen Will Never Perish" Козацькому Роду Нема Переводу, 1970
This major work reflects an affirmative vision of unified and prosperous future of the Ukrainian People. The title reflects a crucial Ukrainian notion of "Kossak keen" that cannot be terminated. This notion is now enshrined in the national anthem. There is now a very popular national song of this title. "The Kossak Keen Will Never Perish" is part of the title of the important Ukrainian book by a very prominent Ukrainian writer Oleksandr Ilchenko whom my Dad knew and loved his book. He adopted this part for this painting at the advise of an important Ukrainian composer, national song writer and his friend Oleksandr Bilash.  This painting is now represents the final words of Ukrainian anthem.
Ще не вмерла України і слава, і воля,
Ще нам, браття молодії, усміхнеться доля.
Згинуть наші воріженьки, як роса на сонці.
Запануєм і ми, браття, у своїй сторонці.
Душу й тіло ми положим за нашу свободу,
І покажем, що ми, браття, козацького роду
Šče ne vmerla Ukrajiny i slava, i volia.
Šče nam, brattia molodiji, usmichnet́ia dolia.
Zhynut́ naši vorižeńky, jak rosa na sonci,
Zapanujem i my, brattia, u svojij storonci.
Dušu j tilo my položym za našu svobodu,
I pokažem, ščo my, brattia, kozaćkoho rodu.
Ukraine is not yet dead, nor its glory and freedom,
Luck will still smile on us brother-Ukrainians.
Our enemies will die, as the dew does in the sunshine,
and we, too, brothers, we'll live happily in our land.
We'll not spare either our souls or bodies to get freedom
and we'll prove that we brothers are of Kossak kin.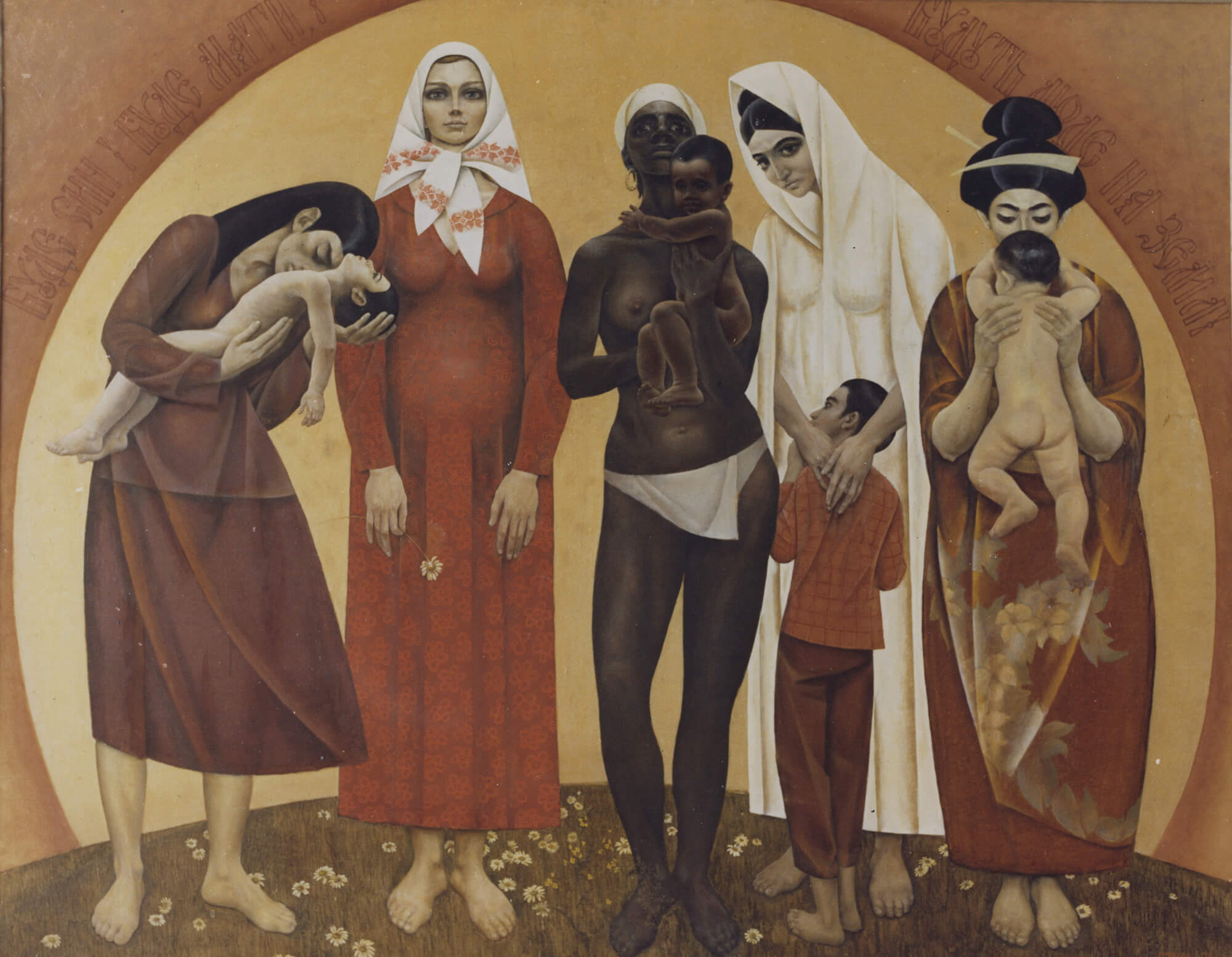 Leonid Steele "Mothers of The World" 1972
The painting represents Leonid Steele's global vision with the pregnant Ukrainian woman among mothers of world's races. On top of the iconic golden son Dad wrote in old Ukrainian a super important quote from Shevchenko's Kobzar "There will be Son and there will be Mother
And there will be peoples upon Earth"
This poem has a very special prophetic relevance now and widely quoted by the people of Ukraine throughout the war. It represents unshakable faith in overcoming, rebirth and future.
This entire painting was inspired and composed by my Dad as formulated response to this poem by Shevchenko which he loved and which was hugely important to him, but he wrote it directly on the painting also at the advice of Bilash.
«І на оновленій землі
Врага не буде супостата,
А буде Син і буде Мати
І будуть люде на Землі»
Тарас Шевченко «Кобзар»
"And on the land rebirthed
There will be no vile enemy, but rather
There will be Son and there will be Mother
And there will be peoples upon Earth"
Taras Shevchenko "Kobzar"
The notes on Leonid Steele by artists' son, Artist Laureate of Culver City Alexey Steele